Pocket Watch Database
Hamilton Watch Co.
Research & Media
Hamilton 16s Dial Feet Location
Originally, all Hamilton 16-Size movements were fitted with dials that featured four feet. Starting in 1911, new movements were transitioned to three-foot dials while remaining inventory retained the four-foot dials.
With close inspection, the dial type can be easily identified by evaluating an image of the movement. Due to the differentiation between the foot locations, the four-foot dial is evident when the 21.8 foot hole is prominently visible between the barrel and train bridge. In contrast, the 22.3 foot hole for the three-foot dial is mostly hidden behind the train bridge.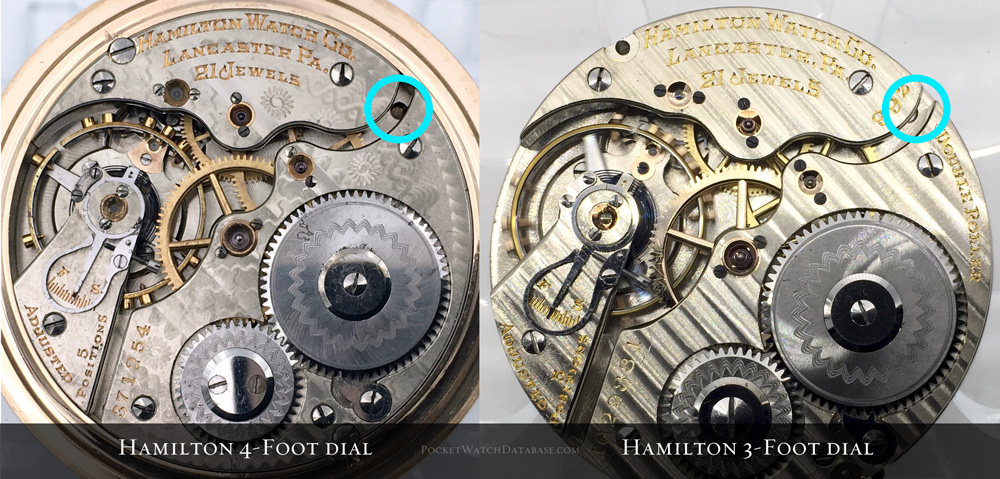 The dial feet on the 4-Foot dial are located at 7.6, 21.8, 38.0, and 50.5.
The dial feet on the 3-Foot dial are located at 22.3, 38.0, and 57.1.
---
| Grade | Setting | Transition Date | Serial Number |
| --- | --- | --- | --- |
| 950 | | December 1915 | 1,021,001 |
| 950E | | All 3-Footed | |
| 950B | | All 3-Footed | |
| 951 | | Unknown | |
| 952 | Pendant | Unknown | |
| 952 | Lever | September 1912 | 840,901 |
| 954 | | August 1911 | 845,401 |
| 956 | | All 3-Footed | |
| 960 | Pendant | All 4-Footed | |
| 960 | Lever | October 1913 | 1,080,101 |
| 961 | | All 4-Footed | |
| 962 | | All 4-Footed | |
| 963 | | All 4-Footed | |
| 964 | | All 4-Footed | |
| 965 | | All 4-Footed | |
| 966 | | All 4-Footed | |
| 967 | | All 4-Footed | |
| 968 | | All 4-Footed | |
| 969 | | All 4-Footed | |
| 970 | | All 4-Footed | |
| 971 | | All 4-Footed | |
| 972 | Lever | February 1912 | 858,501 |
| 972 | Pendant | May 1912 | 866,701 |
| 973 | Lever | January 1913 | 1,016,301 |
| 973 | Pendant | All 4-Footed | |
| 974 | Pendant | December 1911 | 858,001 |
| 974 | Lever | April 1912 | 880,601 |
| 975 | Lever | December 1912 | 1,016,001 |
| 975 | Pendant | January 1913 | 1,026,001 |
| 976 | Pendant | All 4-Footed | |
| 977 | Pendant | All 4-Footed | |
| 978 | | August 1912 | 891,601 |
| 990 | Lever | January 1912 | 850,301 |
| 991 | Lever | All 4-Footed | |
| 992E | | All 3-Footed | |
| 992B | | All 3-Footed | |
| 992 | Pendant | All 3-Footed | |
| 992 | Lever | May 1912 | 880,001 |
| 993 | Pendant | All 3-Footed | |
| 993 | Lever | February 1913 | 1,016,601 |
| 994 | Pendant | All 3-Footed | |
| 994 | Lever | All 3-Footed | |
| 996 | Lever | All 3-Footed | |
---
Hamilton Grades Exclusively Fitted with 4-Foot Dials
960P
961
962
963
964
965
966
967
968
969
970
971
973P
976P
977P
991L
Hamilton Grades Exclusively Fitted with 3-Foot Dials
950E
950B
956
992E
992B
992P
993P
994P
994L
996L
Hamilton Grades Transitioned from 4-Foot to 3-Foot Dials
950
951
952P
952L
954
960L
972L
972P
973L
974P
974L
975L
975P
978
990L
992L
993L
Sources:
Hamilton Watch Company Factory Ledgers
Hamilton Production Documentation
by Lowell Halligan
Lasser's List: The Hamilton Watch Company: American Production
by Dr. Howard Lasser
Hamilton Watch Company Myths & Legends
, by Howard Lasser,
NAWCC Bulletin, Vol. 50/5 No. 376 (October 2008)