Pocket Watch Database
Information Provided by PocketWatchDatabase.com:
https://pocketwatchdatabase.com/search/result/elgin/375031

Access Date: January 17, 2022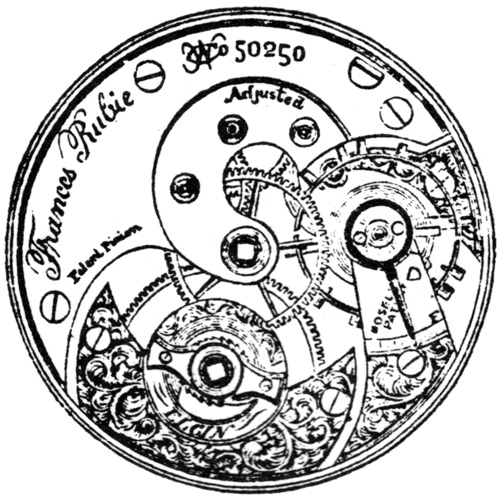 ---
Elgin National Watch Co.
Grade: 23
Experimental/Special Run - Please see research notes.
Manufacturer:
Elgin
Manufacturer Location:
Elgin, Illinois
Movement Serial Number:
375031
Grade:
23
Variation:
Frances Rubie
Model:
2
Class:
46
Estimated Production Year:
1874
Run Quantity:
1,000
Grade/Model Run:
3 of 3
Total Production:
3,000
Size:
10s
Jewels:
15j
Movement Configuration:
Adaptable
Movement Finish:
Gilt
Movement Setting:
Key
Plate:
3/4 Plate
Barrel:
Going
Train:
Quick
Regulator:
Plain
Adjusted:
Yes
Railroad Grade:
No
U.S. Patents:
77078
Data Research:
1896 Elgin Serial List
1904 Elgin Serial List
1915 Elgin Serial List
1927/1950 Elgin Serial List

Database Version:
v47.457

Research Note: Factory serial lists designate run as Grade 23 "Frances Rubie." However, after a small batch of Frances Rubie movements, the run is composed of experimental and special order movements.
#375010: Verified as Frances Rubie.
#375028 and #375030: Verified as having features consistent with the 16-Size Model 4 Grade 83.
#375031: Verified as 16-Size Model 4 "Chronograph" featuring a unique timer mechanism added to movement [Heritage Auctions].
#375075: Verified as 16-Size Pendant-Set Prototype with Barrel Similar to Interchangeable Models.
#375258: Verified as 18s Private Label for Mermod Jaccard & Co.
#375335 and #375366: Reported as 18s Private Label for Mermod Jaccard & Co.
#375767: Verified as Unfinished 18-Size Model 8 Prototype with 23 Jewels (Gold Jewel Settings, Wheels, and Screws are all in an unfinished state) [JH April 2021].
Help Us Help Others By Improving the Database:
Does this information describe your movement accurately?
Data Verification Reports
375001
Verification Serial Map
376000