Pocket Watch Database
Information Provided by PocketWatchDatabase.com: https://pocketwatchdatabase.com/search/result/elgin/9386740/research
Elgin Grade 240 Advertisements & Publications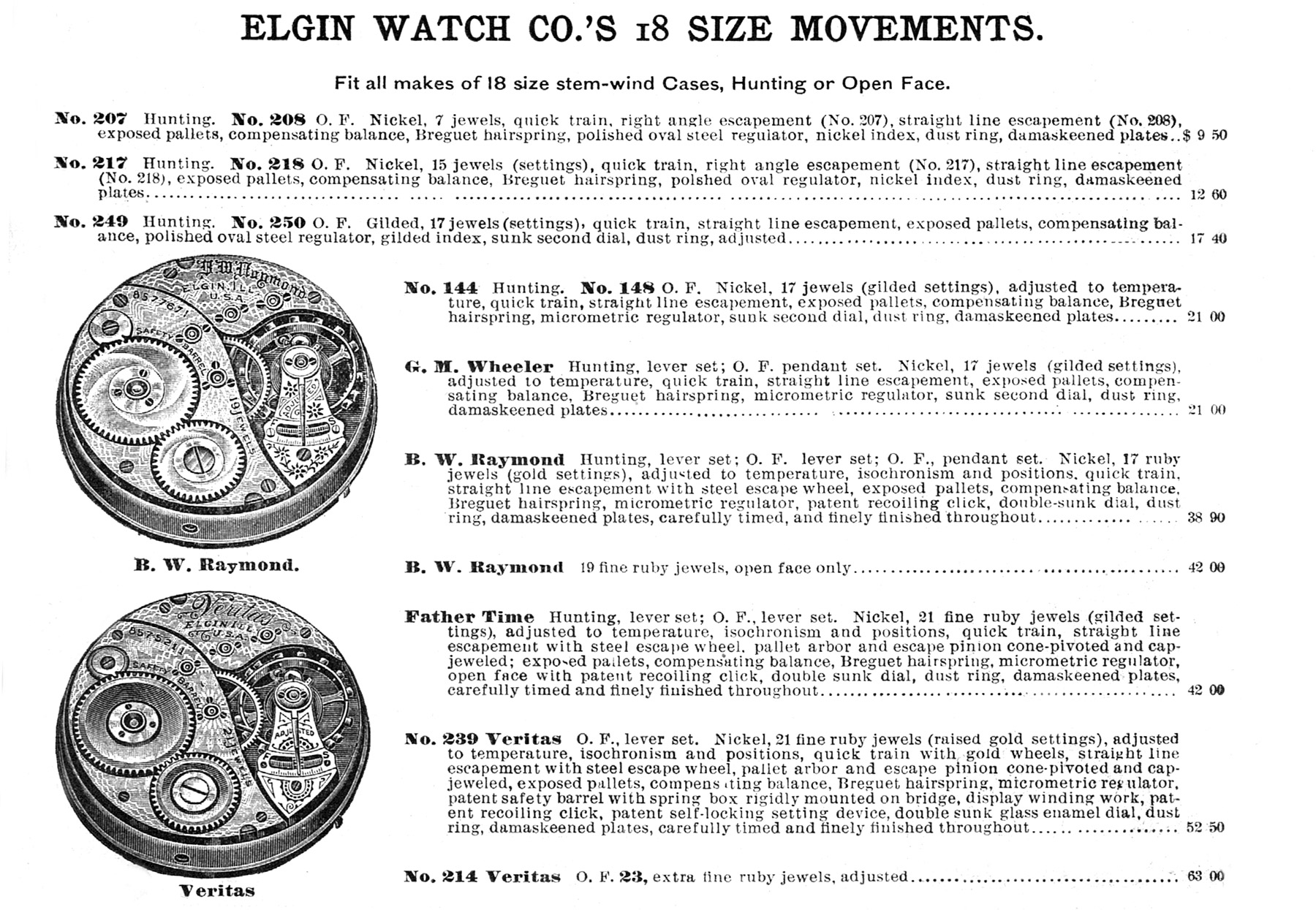 Generic "No. 76" Manufacturers' Price List Catalog (1903)
Publication Year: 1903
Page: 4
Grade:
240
Manufacturer:
Elgin
Note:
B.W. Raymond
Size:
18s
Configuration:
Openface
Setting:
Lever or Pendant
Finish:
Nickel
Finish Description:
Nickel, Damaskeened Plates
Jewels:
19j
Jewel Setting:
Gold Screw Settings
Jewel Description:
19 Ruby Jewels (Gold Settings)
Adjusted:
Yes
Adjusted To Temperature:
Yes
Adjusted To Isochronism:
Yes
Adjusted Description:
Adjusted to Temperature, Isochronism and Positions
Regulator:
Micrometric Regulator
Hairspring:
Breguet
Balance:
Compensation
Train:
Quick
Escapement Type:
Straight Line Escapement
Dial Type:
Double-sunk
Description:
B.W. Raymond
Hunting, lever set; O.F. lever set; O.F. pendant set. Nickel, 17 ruby jewels (gold settings), adjusted to temperature, isochronism and positions, quick train, straight line escapement, steel escape wheel, exposed pallets, compensating balance, Breguet hairspring, micrometric regulator, patent recoiling click, double-sunk second dial, dust ring, damaskeened plates, carefully timed, and finely finished throughout. $38.90

B.W. Raymond
19 fine ruby jewels, open face only. $42.00
Price:
$42.00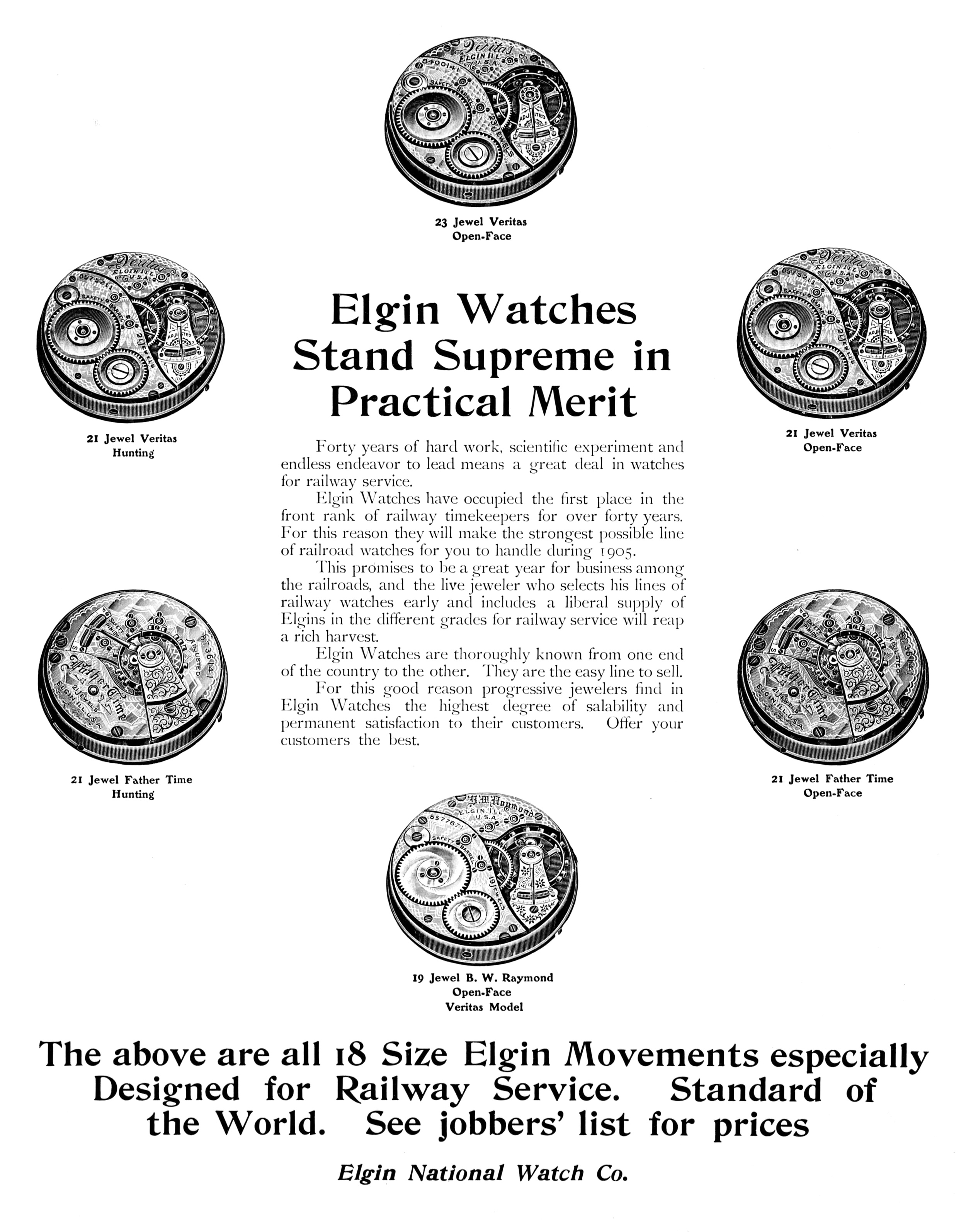 The Keystone, Volume 26
Publication Year: 1905
Page: 320
Grade:
240
Manufacturer:
Elgin
Size:
18s
Configuration:
Openface
Finish:
Nickel
Jewels:
19j
Jewel Count Marked:
Yes
Adjusted:
Yes
Adjusted Marked:
Yes
Railroad Grade:
Yes
Markings:
B.W. Raymond
Elgin, Ill.
U.S.A.
19 Jewels
Adjusted
Safety Pinion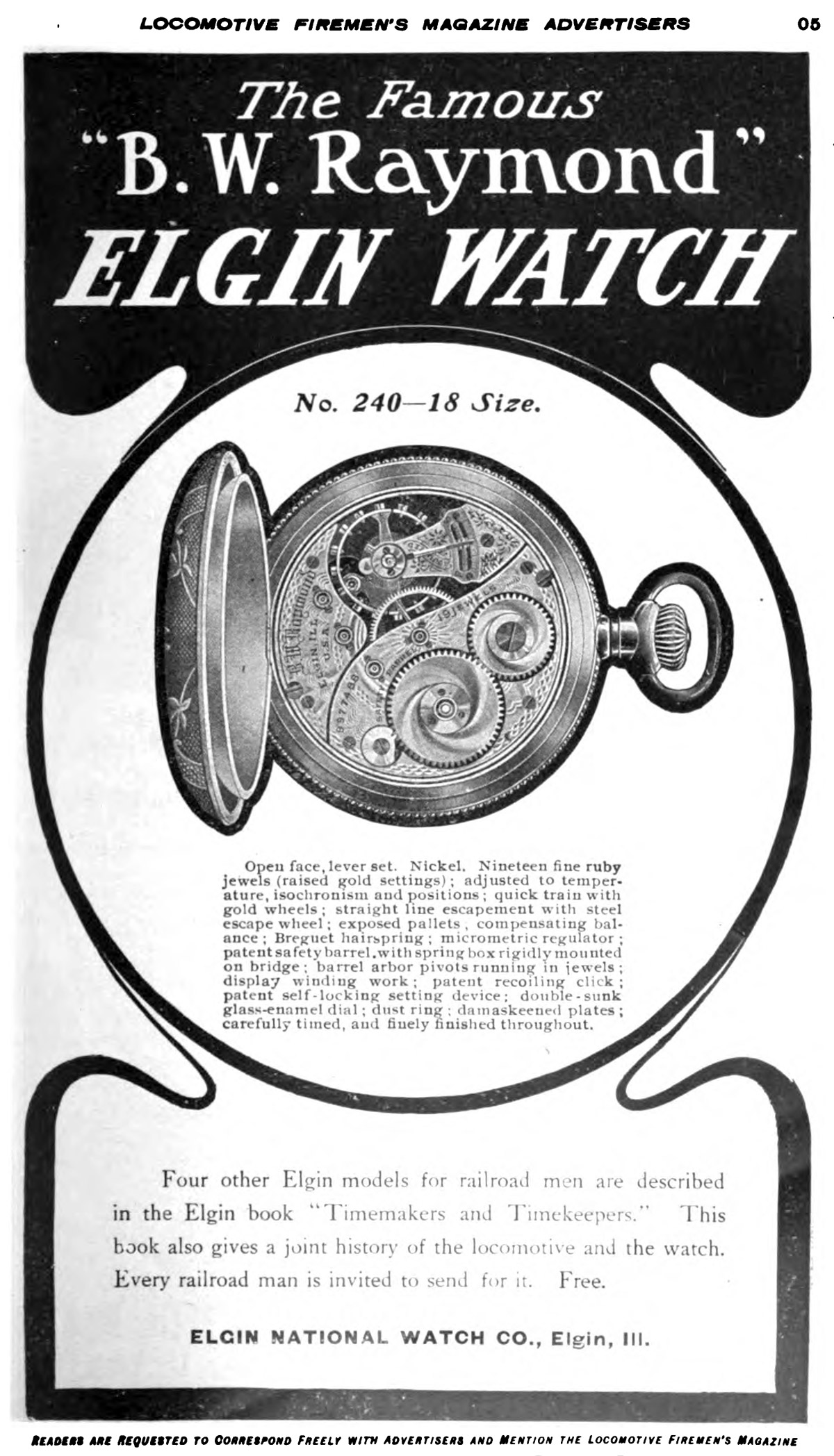 Brotherhoods of Locomotive Firemen's Magazine
Publication Date: March 1906
Page: 5
Grade:
240
Manufacturer:
Elgin
Size:
18s
Model:
8
Configuration:
Openface
Setting:
Lever
Finish:
Nickel
Jewels:
19j
Jewel Count Marked:
Yes
Jewel Setting:
Raised Gold Settings
Jewel Description:
Nineteen Fine Ruby Jewels
Adjusted:
Yes
Adjusted Marked:
Yes
Adjusted To Temperature:
Yes
Adjusted To Isochronism:
Yes
Adjusted Description:
Adjusted to Temperature, Isochronism and Positions
Railroad Grade:
Yes
Regulator:
Micrometric Regulator
Hairspring:
Breguet
Balance:
Compensation
Train:
Quick
Escapement Type:
Straight Line
Markings:
B.W. Raymond
Elgin, Ill.
U.S.A.
19 Jewels
Safety Barrel
Dial Material:
Glass Enamel
Dial Type:
Double-sunk
Description:
The Famous
"B.W. Raymond"
Elgin Watch
No. 240 - 18 Size
Open face, lever set. Nickel. Nineteen fine ruby jewels (raised gold settings); adjusted to temperature, isochronism and positions; quick train with gold wheels; straight line escapement with steel escape wheel; exposed pallets, compensating balance; Breguet hairspring; micrometric regulator; patent safety barrel with spring box rigidly mounted on bridge; barrel arbor pivots running in jewels; display winding work; patent recoiling click; patent self-locking setting device; double-sunk glass-enamel dial; dust ring; damaskeened plates; carefully timed, and finely finished throughout.
A.C. Becken 16th Annual Catalog (1907)
Publication Year: 1907
Page: 4
Grade:
240
Manufacturer:
Elgin
Note:
B.W. Raymond
Size:
18s
Configuration:
Openface
Setting:
Lever
Finish:
Nickel
Finish Description:
Damaskeened Plates
Jewels:
19j
Jewel Count Marked:
Yes
Jewel Setting:
Raised Gold Settings
Jewel Description:
19 Fine Ruby Jewels
Adjusted:
Yes
Adjusted Marked:
Yes
Adjusted To Temperature:
Yes
Adjusted To Isochronism:
Yes
Adjusted Description:
Adjusted to Temperature, Isochronism and Positions
Regulator:
Micrometric Regulator
Hairspring:
Breguet
Balance:
Compensation
Markings:
B.W. Raymond
Elgin, Ill.
U.S.A.
19 Jewels
Adjusted
Safety Barrel
Dial Material:
Glass Enamel
Dial Type:
Double-sunk
Description:
B.W. Raymond, 19 Jewels.

3/4 plate, nickel, 19 fine ruby jewels (raised gold settings); adjusted to temperature, isochronism and positions; steel escape wheel; exposed pallets, compensation balance; Breguet hairspring, micrometric regulator; patent safety barrel with spring box rigidly mounted on bridge; display winding work; patent recoiling click; patent self-locking setting device, double sunk glass enamel dial; dust ring; damaskeened plates; carefully timed, and finely finished throughout.

Open Face only, lever set, $40.00

Price:
$40.00
A.C. Becken Catalog (1915)
Publication Year: 1915
Page: 80
| | |
| --- | --- |
| Grade: | 240 |
| Manufacturer: | Elgin |
| Size: | 18s |
| Configuration: | Openface |
| Finish: | Nickel |
| Price: | $37.80 |