Information Provided by PocketWatchDatabase.com: https://pocketwatchdatabase.com/search/result/hamilton/270866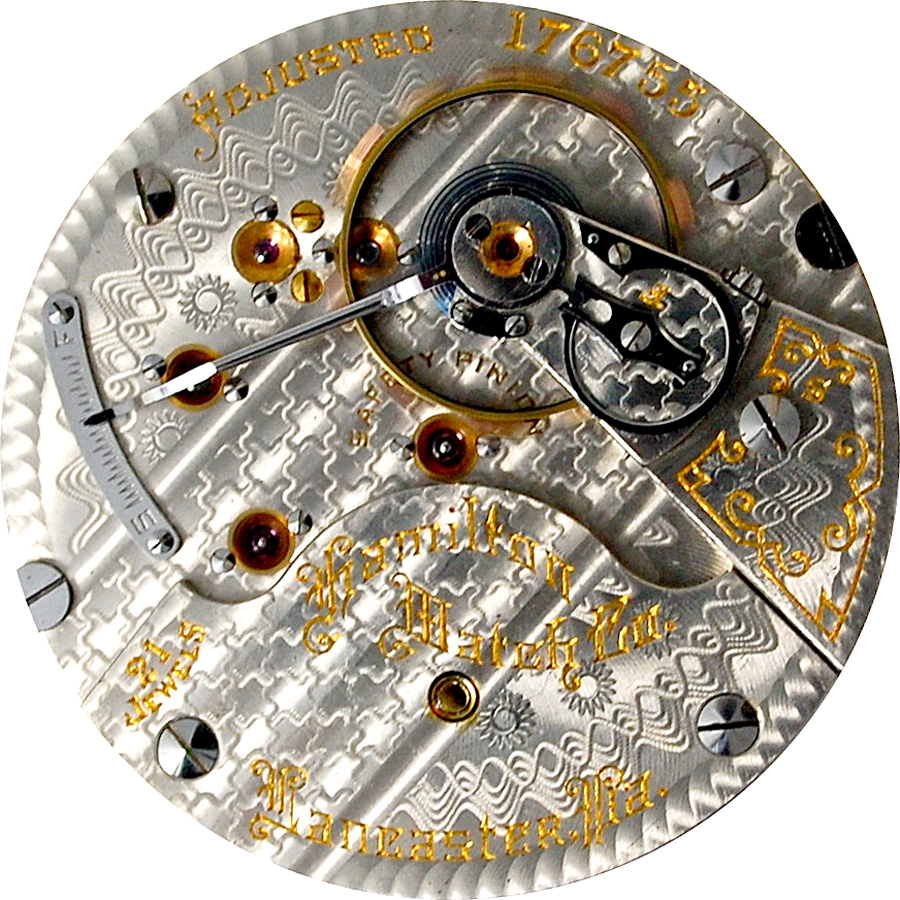 Grade: 940
Private Label(s) in Run: J. A. Rummele - Adjusted T&P. - Manitowoc, Wis.
Manufacturer:
Hamilton
Manufacturer Location:
Lancaster, Pennsylvania
Movement Serial Number:
270866
Grade:
940
Model:
1
To Finishing Dept:
Jun 4, 1903
Run Quantity:
1,000
Total Production:
210,596
Size:
18s
Jewels:
21j
Jewel Material:
Ruby
Jewel Setting:
Gold Settings (Screw-Set)
Movement Configuration:
Openface
Movement Finish:
Nickel
Finish Pattern:
Damaskeened
Movement Inlay Color:
Gilt
Movement Setting:
Lever
Plate:
Full Plate
Barrel:
Going
Regulator:
Goldthwait
Hairspring:
Breguet
Standard Dial Type:
Double-Sunk
Adjusted:
Yes
Adjusted to Position:
Yes
Adjusted # of Positions:
5
Adjusted to Temperature:
Yes
Adjusted to Isochronism:
Yes
Railroad Grade:
Yes
Dial Feet Locations:
2.6, 18.0, 38.2
U.S. Patents:
832672, 427072
Data Research:
1953 Hamilton Serial List

Research Note: #270908: Verified as Private Label Marked "J. A. Rummele; Adjusted T&P.; Manitowoc, Wis.; Adjusted; 21 Jewels; Safety Pinion" featuring a special parallel bar damaskeening pattern. [NAWCC]

Thanks for your help!


We have received your verification.
Data Confidence Rating:
Verifications & Observations
270001
Verification Serial Map
271000
September 6, 2018:

Serial Number

270133

was reported as accurate

January 23, 2018:

Serial Number

270133

was reported as accurate

September 25, 2016:

Serial Number

270395

was reported as accurate

Changes since this report was submitted:

Adjusted # Positions changed from 6 to 5


October 28, 2015:

Serial Number

270174

was reported as accurate

Changes since this report was submitted:

Adjusted # Positions changed from 6 to 5


October 28, 2015:

Serial Number

270174

was reported as inaccurate

No further details were submitted with the report.

Changes since this report was submitted:

Adjusted # Positions changed from 6 to 5


October 8, 2015:

Serial Number

270032

was reported as inaccurate

Note: Adj. Position is #6.

August 12, 2015:

Serial Number

270261

was reported as accurate

March 26, 2015:

Serial Number

270154

was reported as accurate

October 24, 2013:

Serial Number

270967

was reported as accurate

February 22, 2013:

Serial Number

270080

was reported as accurate

January 24, 2013:

Serial Number

270431

was reported as accurate

August 11, 2012:

Serial Number

270675

was reported as accurate
1