Pocket Watch Database
Location: Aurora, Illinois
Years of Operation: 1883-1892
Successor: Hamilton
Specialty: Focused primarily on low to medium grade 18s watches.
Production Jewels: 7-15 Jewels
Production Sizes: 18s, 6s
Factory Building Status: Destroyed by fire December 17, 1989. A park now resides on the property.
June 1883
The Aurora Watch Co. starts operations in Aurora, Illinois with a capital stock of $250,000. The company approaches the market as a trade watch company, cutting out the middle man. Only one dealer in each town is allowed the priviledge of selling the Aurora watches.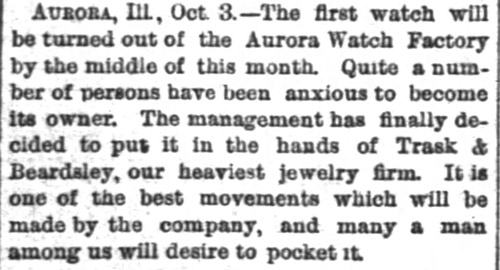 The Inter Ocean, Chicago, Illinois
Saturday, October 4, 1884
October 1884
The first Aurora Watch Co. movements are sold.
December 23, 1884
The first movement ever produced by the Aurora Watch Company was presented to Mary Rice after winning a drawing arranged by the retail jewelry firm Trask and Beardsley. The watch was then given to her husband as a Christmas gift.
1886
Hurd's patent regular is first used on Aurora Watch Co. movements.
May 1887
The Aurora Watch Company is awarded an exclusive contract by the U.S. Jewelers' Guild to manufacturer movements adorned with the U.S.J.G. logo.
September 15, 1888
The first 6-Size ladies watches produced by the Aurora Watch Copmany are offered for sale at Trask & Plains.
The Inter Ocean, Chicago, Illinois
Wednesday, October 26, 1892
October 1892
Aurora Watch Co. is purchased by the newly formed Columbian Watch Co. (which was renamed the Hamilton Watch Co. shortly after).