Pocket Watch Movement Finishes
American pocket watch movements are usually found with either a Gilt or Nickel finish. Some manufacturers produced movements with a two-tone finish, using gilt damaskeening over nickel.
Note:
The finishes referenced on this page apply to the movement finish inside the watch,
not the case material
.
Gilt Finish
Gilt movements are characterized by a gold-colored finish "gilded" on brass movement plates, typically engraved without color inlay. This finish was exetremely common before 1900. However, once manufacturers began offering nickel-finished movements, gilt became a less popular option and was more prevalent in lower quality movements.
Pictured: Elgin 7-Jewel Gilt Movement
---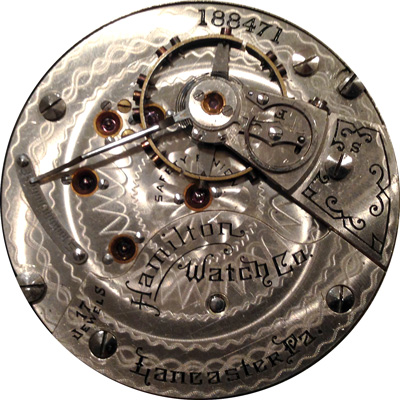 Nickel Finish
Nickel movements are characterized by a silvery, often-polished, finish on the movement plates, usually adorned with decorative damaskeening patterns. Once nickel movements became popular in the late 1800s, they often sold for a premium when compared to identical gilt movements.
The nickel material was more durable and offered a better surface for decorative machining methods.
Pictured: Hamilton 17-Jewel Nickel Damaskeen Movement
---
Two-Tone Finish
Two-Tone movements are characterized by dual-finish patterns using damaskeened gilt on nickel plates. Two-Tone movements were usually reserved for premium watches due to the extra time and attention during the manufacturing process, resulting in some of the most beautiful movements ever produced.
Pictured: Seth Thomas 17-Jewel No. 282 Two-Tone Movement
---