Pocket Watch Database
Contributor
orsogrigio
Cardano al Campo IT
Member Since
October 25, 2014
View Collection
Note: All images are protected by copyright belonging to the uploader. Use without permission is prohibited. Information is provided by users and may contain inaccuracies.
Waltham Martyn Square
Serial #979731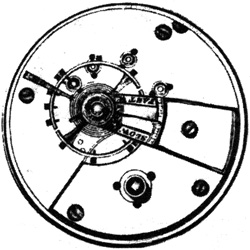 Example Image
(Represents #979731)
Manufacturer
Waltham
Grade
Martyn Square
Serial Number
979731
Size
18s
Model
1857
Jewel Count
7j
Setting
Key
Finish
Gilt
Case Material
Silver
Case Manufacturer
A.B
Case Serial #
16885
Case Details
hallmark Chester, 1883, A.B
Dial Material
Enamel
Dial Type
Single-Sunk
Dial Style
Roman
Dial Signing Name
Dial Details
Movement Markings
AM.WATCH Co.ù
Fogg's Patent
WALTHAM, MASS.
Martyn Sq.