Information Provided by PocketWatchDatabase.com: https://pocketwatchdatabase.com/search/result/elgin/19712538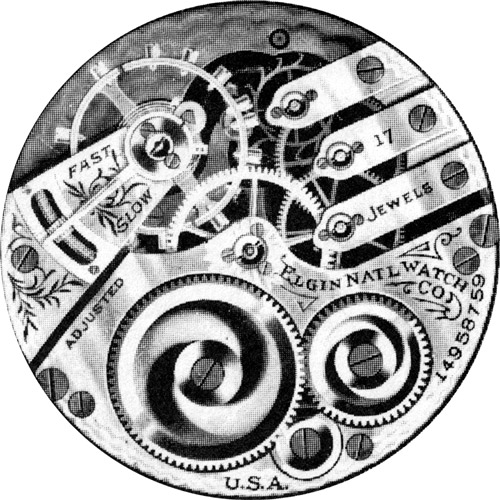 Grade: 382
Strand
Manufacturer:
Elgin
Manufacturer Location:
Elgin, Illinois
Movement Serial Number:
19712538
Grade:
382
Variation:
Strand
Model:
7
Class:
108
Estimated Production Year:
1917
Run Quantity:
1,000
Grade/Model Run:
42 of 49
Total Production:
51,600
Size:
16s
Jewels:
17j
Jewel Material:
Ruby & Sapphire
Jewel Setting:
Screw-Set
Movement Configuration:
Openface
Movement Finish:
Nickel
Movement Setting:
Pendant
Plate:
Bridge Plate
Bridge Type:
3-finger
Double Roller:
Yes
Barrel:
Going
Train:
Quick
Regulator:
Moseley
Hairspring:
Breguet
Adjusted:
Yes
Adjusted to Position:
Yes
Adjusted # of Positions:
4
Adjusted to Temperature:
Yes
Railroad Grade:
No
U.S. Patents:
596407
Data Research:
1927/1950 Elgin Serial List

Research Note: Production total on Grade 382 movements marked "Strand" is considered to be 4,000. However, #19712875 has been verified to NOT feature the "Strand" marking.

Thanks for your help!


We have received your verification.
Data Confidence Rating:
Verifications & Observations
19712001
Verification Serial Map
19713000
July 14, 2019:

Serial Number

19712528

was reported as accurate

June 21, 2019:

Serial Number

19712226

was reported as accurate

November 15, 2017:

Serial Number

19712875

was reported as accurate

December 8, 2016:

Serial Number

19712008

was reported as accurate

June 21, 2016:

Serial Number

19712447

was reported as accurate

August 31, 2014:

Serial Number

19712840

was reported as accurate
2