Information Provided by PocketWatchDatabase.com: https://pocketwatchdatabase.com/search/result/illinois/303723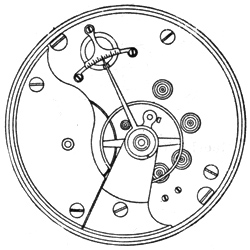 Grade: 61
Manufacturer:
Illinois
Manufacturer Location:
Springfield, Illinois
Movement Serial Number:
303723
Grade:
61
Model:
2
Estimated Production Year:
1889
Run Quantity:
500
Total Production:
10,580
Size:
18s
Jewels:
15j
Jewel Setting:
Screw-Set
Movement Configuration:
Hunting
Movement Finish:
Nickel
Movement Setting:
Lever
Plate:
Full Plate
Barrel:
Going
Train:
Coarse
Regulator:
Patent
Hairspring:
Breguet
Standard Dial Type:
Double-Sunk
Adjusted:
Yes
Adjusted to Temperature:
Yes
Railroad Grade:
No
Dial Feet Locations:
16.5, 36.5, 53.0
Case Screw Locations:
23.5, 51.5
Research Note: Factory Records Indicate Private Labels in Run.

Thanks for your help!


We have received your verification.
Data Confidence Rating:
Verifications & Observations
303501
Verification Serial Map
304000
July 15, 2019:

Serial Number

303708

was reported as inaccurate

Note: Railroad Grade is Yes

Curator Response: Thanks for the report. Is your movement marked "Adjusted?"

September 14, 2017:

Serial Number

303962

was reported as accurate

Changes since this report was submitted:

Grade changed from 61-s to 61


Movement Finish changed from Gilt or Nickel to Nickel


August 30, 2016:

Serial Number

303767

was reported as accurate

Changes since this report was submitted:

Grade changed from 61-s to 61


Movement Finish changed from Gilt or Nickel to Nickel


July 26, 2016:

Serial Number

303775

was reported as accurate

Changes since this report was submitted:

Grade changed from 61-s to 61


Movement Finish changed from Gilt or Nickel to Nickel


March 12, 2013:

Serial Number

303767

was reported as accurate

Changes since this report was submitted:

Grade changed from 61-s to 61


March 7, 2013:

Serial Number

303767

was reported as accurate

Changes since this report was submitted:

Grade changed from 61-s to 61

29