Pocket Watch Database
Brooklyn Watch Case Co. 8K Eagle 18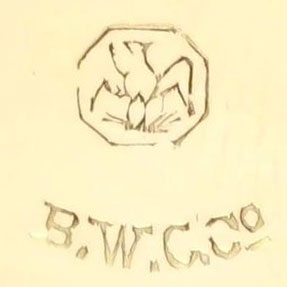 Image Provided by Jones & Horan
Note: Case manufacturers modified markings over time. As a result, the image above is simply a representation of one particular marking used by the company. Your case marking may differ based on the production era and other parameters.
8K Eagle 18
Case Grade:
8K Eagle 18
Material:
Gold
Gold Content:
8K
Note:
Many of these cases are also marked with an enclode "18," suggesting the case is 18K. However, when tested by experts, the results indicate 8K.
Marking Variants:
(Not Intended to be Comprehensive)

Image Provided by Jones & Horan
Note: All images are protected by copyright belonging to the uploader. Use without permission is prohibited.
Information provided by users may contain inaccuracies. Dials, cases, and hands displayed may not be original to the watch.
| | |
| --- | --- |
| Serial No.: | #287473 |
| Manufacturer: | Illinois |
| Grade: | 101 |
| Size: | 18s |
| Model: | 2 |
| Jewels: | 11j |
| Setting: | Lever |
| Finish: | Nickel |
| Est. Date: | March 1888 - July 1888 |
| Case Material: | Gold |
| Gold Karat: | 8 |
| Case Serial: | 93352 |
| Added By: | elk1989 |
| | |
| --- | --- |
| Serial No.: | #8317607 |
| Manufacturer: | Elgin |
| Grade: | 210 |
| Size: | 16s |
| Model: | 6 |
| Jewels: | 7j |
| Setting: | Pendant |
| Finish: | Nickel |
| Est. Date: | 1900 |
| Case Material: | Gold |
| Gold Karat: | 8 |
| Case Serial: | 950543 |
| Added By: | JDPorter81 |