Pocket Watch Database
Brooklyn Watch Case Co. Brooklyn Coin Silver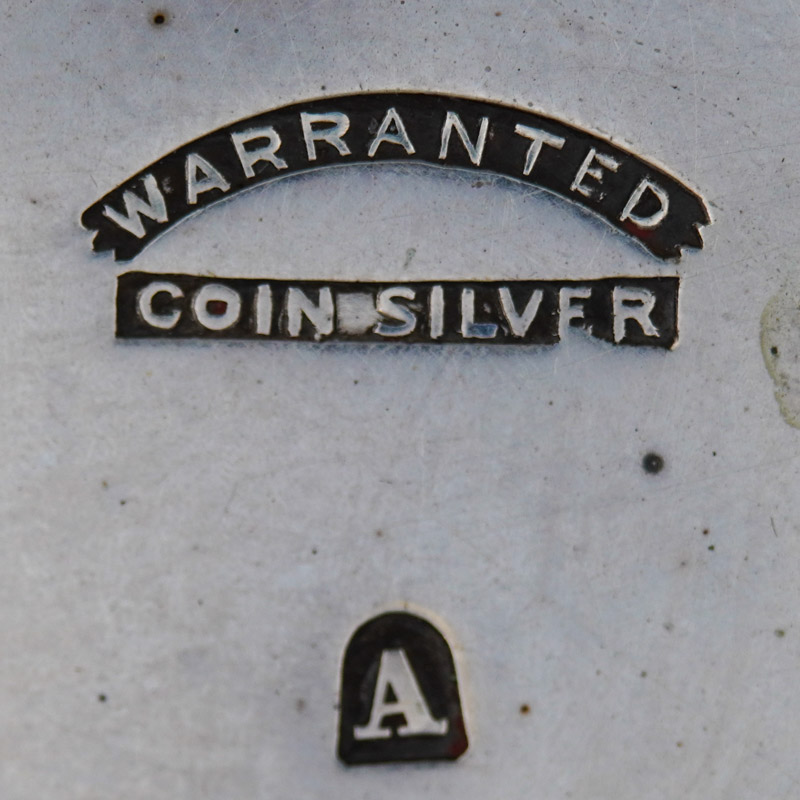 Note: Case manufacturers modified markings over time. As a result, the image above is simply a representation of one particular marking used by the company. Your case marking may differ based on the production era and other parameters.
Brooklyn Coin Silver
This mark has been attributed to the Brooklyn Watch Case Company, though the association has not been confirmed with any doucmentation. The Brooklyn Watch Case Co. used a similar arched "Warranted" mark on solid gold cases from this era. Though, the terminal ends of the mark used on the gold cases are not stylized like this known example. The company also used letter markings in a similar style with an upper arch and straight-bottom cartouche. Surviving examples of gold cases reveal that the company's name was typically omitted or appeared in a minor location away from the primary mark. The annoymous or pseudo-annonymous practice of marking cases is consistent with this silve mark as well. No other silver case markings have been attributed to the company during this era, so this exmample is a logical match.

The mark features are also similar to the Fortenbach and Fahys style. The border profile of "Warranted" is also similar to a profile later used by the Brooklyn Watch Case Company for certain marks. Joseph Fahys was known to work with the Brooklyn Watch Case Company during this time, and he may have been responsible for this coin silver case through the Brooklyn Watch Case Company. A surviving example has been seen with a U.S. Watch Company Marion movement.
| | |
| --- | --- |
| Database ID: | PWDB-458 |
| Case Grade: | Brooklyn Coin Silver |
| Material: | Coin Silver |
| Note: | Attributed to Brooklyn, unconfirmed. |
Find Brooklyn Coin Silver Cases For Sale on eBay
See What Other Brooklyn Coin Silver Cases Have Sold For on eBay
Note: All images are protected by copyright belonging to the uploader. Use without permission is prohibited.
Information provided by users may contain inaccuracies. Dials, cases, and hands displayed may not be original to the watch.
| | |
| --- | --- |
| Serial No.: | #23836 |
| Manufacturer: | E. Howard & Co. |
| Grade: | Unadjusted |
| Size: | 18s |
| Model: | III |
| Jewels: | 15j |
| Setting: | Key |
| Finish: | Gilt |
| Est. Date: | June 23, 1870 |
| Case Material: | Coinsilver |
| Case Serial: | 2348 |
| Added By: | WisWatches |