Pocket Watch Database
Essex Watch Case Co.
Newark, New Jersey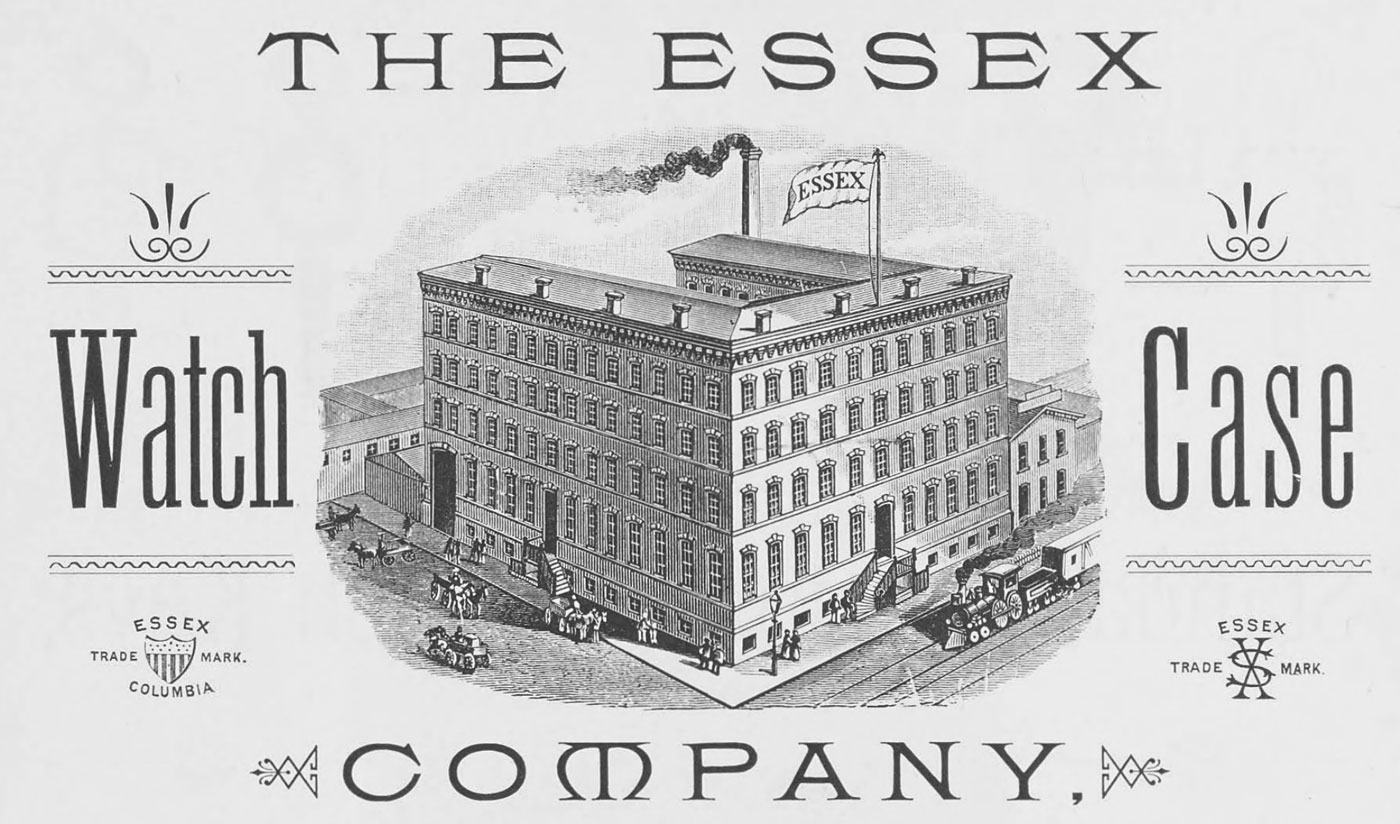 Location: Newark, New Jersey
Years of Operation: 1884 - 1905
Sold to Atkinson Brothers in June, 1888. Led by T.B. Hagstoz (1892). Sold to Courvoisier-Wilcox Mfg Co. in 1893.
Case Grades
Note: This chart is not intended to be a comprehensive list of grades. Some grades changed traits over time and other grades may not be listed. This chart will be improved as additional information is studied.
| Image | Name | Case Material | Gold Content | Gurantee | Source Catalogs | Trademarked |
| --- | --- | --- | --- | --- | --- | --- |
| | Columbia | Gold-Filled | 14K | 15-Year | 1896OY, 1896MF | |
| | Derby | Gold-Filled | | | 1890JC05 | |
| | Essex | Rolled Gold Plate | | 10-Year | 1899BHIA | |
| | Essex 10K/15YR | Gold-Filled | 10K | 15-Year | 1894BA, 1894NRC, 1895SFM, 1895OY | |
| | Essex 14K/10YR | Gold-Filled | 14K | 10-Year | 1899ACB | |
| | Essex 14K/20YR | Gold-Filled | 14K | 20-Year | 1893BHIA, 1894BA, 1894NRC, 1895SFM, 1895OY, 1899BHIA, 1899ACB, 1901BAC | |
| | Essex 14K/25YR | Gold-Filled | 14K | 25-Year | 1899BHIA, 1899ACB, 1901OY | |
| | Mascot | Rolled Gold Plate | 14K | 5-Years | 1896OY, 1897BB | |
| | Mascot | Rolled Gold Plate | | 10-Year | 1899BHIA | |
| | Superior | Gold-Filled | 14K | 25-Year | 1890JC05, 1896OY, 1896MF | |