Pocket Watch Database
Information Provided by PocketWatchDatabase.com: https://pocketwatchdatabase.com/search/result/hamilton/1635345/research
Hamilton Grade 992 Advertisements & Publications
A.C. Becken Illustrated Catalogue and Price List
Publication Year: 1916
Grade:
992
Manufacturer:
Hamilton
Size:
16s
Configuration:
Openface
Setting:
Pendant
Finish:
Nickel
Jewels:
21j
Jewel Count Marked:
Yes
Jewel Setting:
Gold Screw Settings
Jewel Description:
21 EXTRA FINE RUBY JEWELS IN GOLD SETTINGS; SAPPHIRE PALLETS
Adjusted:
Yes
Adjusted Marked:
Yes
Adjusted To Temperature:
Yes
Adjusted To Isochronism:
Yes
Adjusted # Positions:
5
Adjusted Description:
Adjusted to Temperature, Isochronism, and Five Positions
Regulator:
Micrometric Regulator
Hairspring:
Breguet
Balance:
Compensation
Markings:
Hamilton Watch Co.
Lancaster, Pa.
21 Jewels
992
Adjusted
5 Positions
Double Roller
Movement Font Style:
Serif
Dial Type:
Double-sunk
Description:
NO. 992 OPEN FACE. NICKEL, 3/4 PLATE MOVEMENT, 21 EXTRA FINE RUBY JEWELS IN GOLD SETTINGS, DOUBLE ROLLER ESCAPEMENT, STEEL ESCAPE WHEEL, SAPPHIRE PALLETS, MICROMETRIC REGULATOR, BREGUET HAIRSPRING, DOUBLE SUNK DIAL, COMPENSATION BALANCE, ADJUSTED TO TEMPERATURE, ISOCHRONISM AND FIVE POSITIONS. $30.00
Price:
$30.00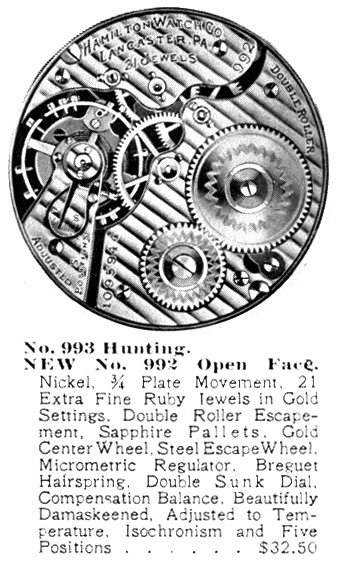 A.C. Becken Illustrated Catalogue and Price List
Publication Year: 1916
Grade:
992
Manufacturer:
Hamilton
Size:
16s
Configuration:
Openface
Setting:
Lever
Finish:
Nickel
Finish Description:
Beautifully Damaskeened
Jewels:
21j
Jewel Count Marked:
Yes
Jewel Setting:
Gold Screw Settings
Jewel Description:
21 EXTRA FINE RUBY JEWELS IN GOLD SETTINGS; SAPPHIRE PALLETS
Adjusted:
Yes
Adjusted Marked:
Yes
Adjusted To Temperature:
Yes
Adjusted To Isochronism:
Yes
Adjusted # Positions:
5
Adjusted Description:
Adjusted to Temperature, Isochronism and Five Positions
Regulator:
Micrometric Regulator
Hairspring:
Breguet
Balance:
Compensation
Markings:
Hamilton Watch Co.
Lancaster, Pa.
992
21 Jewels
Adjusted
5 Positions
Double Roller
Movement Font Style:
Serif
Dial Type:
Double-sunk
Description:
NO. 993 HUNTING. NEW NO. 992 OPEN FACE, NICKEL, 3/4 PLATE MOVEMENT, 21 EXTRA FINE RUBY JEWELS IN GOLD SETTINGS, DOUBLE ROLLER ESCAPEMENT, SAPPHIRE PALLETS, GOLD CENTER WHEEL, STEEL EXCAPE WHEEL, MICROMETRIC REGULATOR, BREGUET HAIRSPRING, DOUBLE SUNK DIAL, COMPENSATION BALANCE, BEAUTIFULLY DAMAKEENED, ADJUSTED TO TEMPERATURE, ISOCHRONISM AND FIVE POSITIONS. $32.50
Price:
$32.50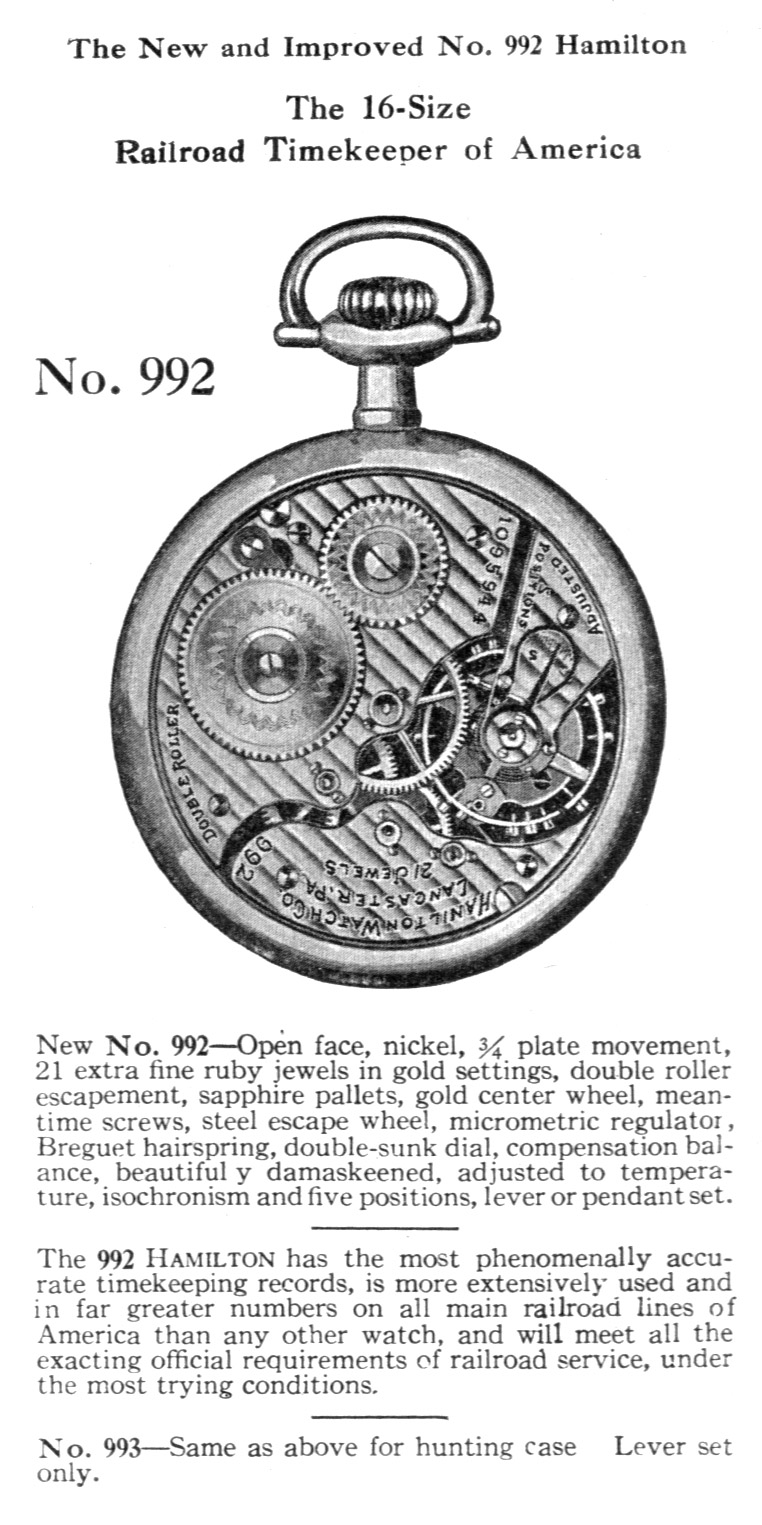 The Hamilton Time Book (1919)
Publication Year: 1919
Page: 5
Grade:
992
Manufacturer:
Hamilton
Size:
16s
Configuration:
Openface
Setting:
Lever or Pendant
Finish:
Nickel
Finish Description:
Beautifully Damaskeened
Jewels:
21j
Jewel Count Marked:
Yes
Jewel Setting:
Gold Screw Settings
Jewel Description:
21 EXTRA FINE RUBY JEWELS IN GOLD SETTINGS; SAPPHIRE PALLETS
Adjusted:
Yes
Adjusted Marked:
Yes
Adjusted To Temperature:
Yes
Adjusted To Isochronism:
Yes
Adjusted # Positions:
5
Adjusted Description:
Adjusted to Temperature, Isochronism and Five Positions
Railroad Grade:
Yes
Regulator:
Micrometric Regulator
Hairspring:
Breguet
Balance:
Compensation
Markings:
Hamilton Watch Co.
Lancaster, Pa.
21 Jewels
992
Adjusted
5 Positions
Double Roller
Movement Font Style:
Serif
Dial Type:
Double-sunk
Description:
THE NEW AND IMPROVED NO. 992 HAMILTON THE 16-SIZE RAILROAD TIMEKEEPER OF AMERICA NEW NO. 992- OPEN FACE, NICKEL, 3/4 PLATE MOVEMENT, 21 EXTRA FINE RUBY JEWELS IN GOLD SETTINGS, DOUBLE ROLLER ESCAPEMENT, SAPPHIRE PALLETS, GOLD CENTER WHEEL, MICROMETRIC REGULATOR, BREGUET HAIRSPRING, DOUBLE-SUNK DIAL, COMPENSATION BLANACE, BEAUTIFULLY DAMASKEENED, ADJUSTED TO TEMPERATURE, ISOCHRONISM AND FIVE POSITIONS, LEVER OR PENDANT SET. THE 992 HAMILTON HAS THE MOST PHENOMENALLY ACCURATE TIMEKEEPING RECORDS, IS MORE EXTENSIVELY USED AND IN FAR GREATER NUMBERS ON ALL MAIN RAILROAD LINES OF AMERICA THAN ANY OTHER WATCH, AND WILL MEET ALL THE EXACTING OFFICIAL REQUIREMENTS OF RAILROAD SERVICE, UNDER THE MOST TRYING CONDITIONS.