Information Provided by PocketWatchDatabase.com: https://pocketwatchdatabase.com/search/result/hamilton/866160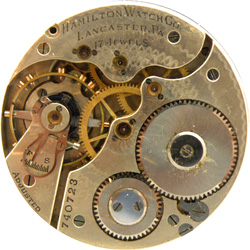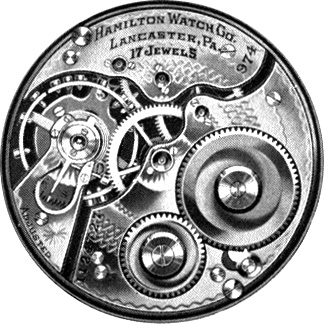 Grade: 974
Manufacturer:
Hamilton
Manufacturer Location:
Lancaster, Pennsylvania
Movement Serial Number:
866160
Grade:
974
Model:
1
Class:
5
To Finishing Dept:
Jan 20, 1912
Run Quantity:
600
Total Production:
114,784
Size:
16s
Jewels:
17j
Jewel Setting:
Screw-Set
Movement Configuration:
Openface
Movement Finish:
Nickel
Movement Setting:
Pendant
Plate:
3/4 Plate
Regulator:
Reed
Hairspring:
Breguet
Adjusted:
Yes
Adjusted to Position:
No
Adjusted to Temperature:
Yes
Railroad Grade:
No
Dial Feet Locations:
22.3, 38.0, 57.1
Hamilton 16s Dial Feet Research
Data Research:
1953 Hamilton Serial List

Research Note: #866269: Verified as featuring a 4-foot dial, falling within the trasitional period of production.

Thanks for your help!


We have received your verification.
Data Confidence Rating:
Verifications & Observations
866001
Verification Serial Map
866600
April 28, 2020:

Serial Number

866550

was reported as accurate

September 14, 2019:

Serial Number

866269

was reported as inaccurate

Note: This watch has a dial with 4 feet, not 3 feet.

Curator Response: [Verified, eBay #333330155101] Thanks for the report. This has been added to the research notes for the run.

January 20, 2019:

Serial Number

866160

was reported as accurate

January 13, 2019:

Serial Number

866433

was reported as accurate

January 11, 2019:

Serial Number

866505

was reported as accurate

November 18, 2015:

Serial Number

866031

was reported as accurate

Changes since this report was submitted:

Double Roller changed from Yes to No


November 6, 2013:

Serial Number

866269

was reported as inaccurate

No further details were submitted with the report.

Changes since this report was submitted:

Double Roller changed from Yes to No


September 25, 2013:

Serial Number

866558

was reported as accurate

Changes since this report was submitted:

Double Roller changed from Yes to No


September 25, 2013:

Serial Number

866558

was reported as accurate

Changes since this report was submitted:

Double Roller changed from Yes to No


August 18, 2013:

Serial Number

866312

was reported as inaccurate

Note: Stem set

Changes since this report was submitted:

Railroad Grade changed from ? to No


Double Roller changed from Yes to No


June 30, 2012:

Serial Number

866099

was reported as accurate

Changes since this report was submitted:

Movement Setting changed from Lever to Pendant


Double Roller changed from Yes to No

1