Information Provided by PocketWatchDatabase.com: https://pocketwatchdatabase.com/search/result/hampden/2188302/link
Due to the lack of existing factory records, our Hampden database has been reconstructed using observations of known watches.
As a result, the information may contain inaccuracies. Please let us know if you have details that can improve the database.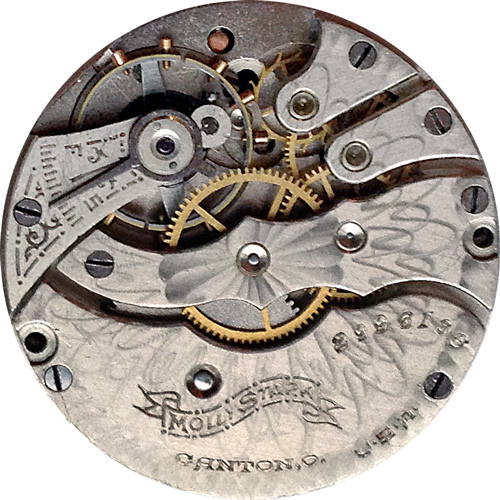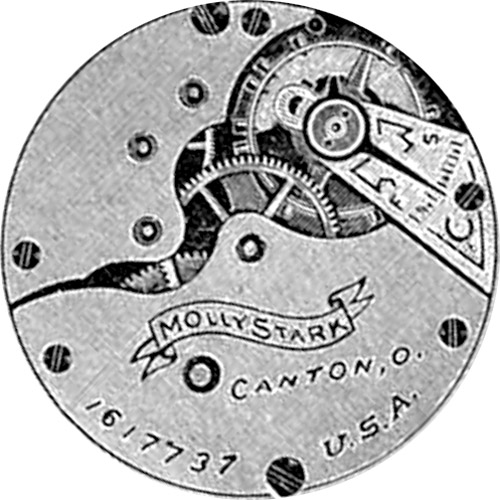 Grade: Molly Stark
Manufacturer:
Hampden
Manufacturer Location:
Canton, Ohio
Movement Serial Number:
2188302
Grade:
Molly Stark
Model:
4
Estimated Production Year:
1906
Size:
3/0s
Jewels:
7j
Movement Configuration:
Hunting
Movement Finish:
Nickel
Movement Setting:
Lever
Plate:
Bridge Plate
Regulator:
Plain
Adjusted:
No
Railroad Grade:
No
Dial Feet Locations:
13, 38.6, 54.4
Movement Markings:
Molly Stark
Canton, O.

Thanks for your help!


We have received your verification.
Data Confidence Rating:
Verifications & Observations
July 4, 2020:

Serial Number

2188107

was reported as accurate

May 25, 2020:

Serial Number

2186607

was reported as accurate

May 5, 2020:

Serial Number

2187113

was reported as inaccurate

Note: Stem wind, not graded serial #1860453, the word
safety pinion inside on the movement. The housing
is gold and back is engraved with seems to be
birds.

Curator Response: Thanks for the report. If possible, please upload an image of the movement to your collection for further evaluation and documentation.

April 25, 2020:

Serial Number

2182720

was reported as accurate

May 13, 2019:

Serial Number

2187920

was reported as accurate

March 12, 2019:

Serial Number

2186726

was reported as accurate

April 30, 2018:

Serial Number

2188381

was reported as accurate

April 5, 2018:

Serial Number

2185302

was reported as accurate

November 15, 2017:

Serial Number

2182399

was reported as accurate

September 12, 2016:

Serial Number

2188434

was reported as inaccurate

No further details were submitted with the report.

Changes since this report was submitted:

Grade changed from Unknown to Molly Stark


Size changed from Unknown to 3/0


Plate changed from Unknown to Bridge


January 23, 2016:

Serial Number

2182390

was reported as accurate

January 16, 2016:

Serial Number

2188108

was reported as inaccurate

No further details were submitted with the report.

Changes since this report was submitted:

Grade changed from Unknown to Molly Stark


Size changed from Unknown to 3/0


Plate changed from Unknown to Bridge


November 22, 2013:

Serial Number

2189001

was reported as inaccurate

Note: my watch is an 3/0 molly stark - nickel plate - 7
jewels

Changes since this report was submitted:

Grade changed from No. 302 to Molly Stark


Size changed from 12 to 3/0


Movement Configuration changed from Openface to Hunting


Factory Model changed from 3 to 4


Plate changed from 3/4 to Bridge

30