Pocket Watch Database
Information Provided by PocketWatchDatabase.com:
https://pocketwatchdatabase.com/search/result/hampden/787626

Access Date: June 29, 2022
Due to the lack of existing factory records, our Hampden Watch Co. database has been reconstructed using observations of known watches.
As a result, the information may contain inaccuracies. Please let us know if you have details that can improve the database.
A watch in this run is currently up for auction on eBay.

Hampden Gladiator Ore Silver 18s Pocket Watch A
28309 Days Left
0 Bids
$225.00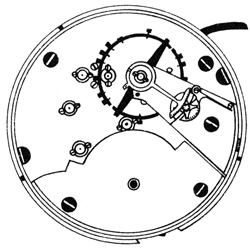 ---
Hampden Watch Co.
Grade: Gladiator
Help Us Help Others By Improving the Database:
Does this information describe your movement accurately?
Data Verification Reports
ChrisG
Top Contributor

Supporter

111

· April 7, 2022

Serial Number 787626 was reported as inaccurate.

Note: Curator : movement is gilt, not nickel finished.
Thx.

Curator Response: Thanks for the report. The database has been updated accordingly.

Changes since this report was submitted:

Movement Finish changed from Nickel to Gilt

Similar Watches For Sale