Pocket Watch Database
Information Provided by PocketWatchDatabase.com:
https://pocketwatchdatabase.com/search/result/new-york-standard-watch-co/1011022

Access Date: July 03, 2022
Due to the lack of existing factory records, our New York Standard database has been reconstructed using observations of known watches.
As a result, the information may contain inaccuracies. Please let us know if you have details that can improve the database.
A watch in this run is currently up for auction on eBay.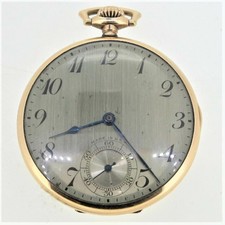 Working Antique 10K Gold filled New York Standard Pocket Watch and Case. 1922, 1
28305 Days Left
0 Bids
$149.00
New York Standard
Grade: 1553
Multiple Movements Assigned Same Serial
Help Us Help Others By Improving the Database:
Does this information describe your movement accurately?
Data Verification Reports
Similar Watches For Sale