Provided by PocketWatchDatabase.com
https://pocketwatchdatabase.com/search/result/illinois/2334
We noticed that you entered a relatively short serial number. "2334" could possibly indicate the grade of the watch and not the serial number of your movement. Serial numbers are usually more than a few digits.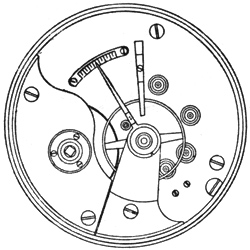 Grade: Bunn
Abbott Conversion
Manufacturer:
Illinois
Manufacturer Location:
Springfield, Illinois
Movement Serial Number:
2334
Grade:
Bunn
Model:
1
Estimated Production Year:
1872
Run Quantity:
500
Total Production:
1,200
Size:
18s
Jewels:
15j
Jewel Setting:
Screw-Set
Movement Configuration:
Either
Movement Finish:
Gilt
Movement Signing Style:
Formal Script
Movement Inlay Color:
None
Movement Setting:
Key
Plate:
Full Plate
Barrel:
Going
Train:
Coarse
Regulator:
Plain
Hairspring:
Flat
Adjusted:
Yes
Dial Feet Locations:
16.5, 36.5, 53.0
Case Screw Locations:
O-36.5, H-51.5
Movement Markings:
Bunn
Springfield, Ill.
Currier's Patent
Adjusted

Thanks for your help!


We have received your verification.
Data Confidence Rating:
Verifications & Observations
2001
Verification Serial Map
2500
May 16, 2019:

Serial Number

2335

was reported as accurate

September 4, 2018:

Serial Number

2309

was reported as accurate

December 25, 2017:

Serial Number

2455

was reported as accurate

May 14, 2017:

Serial Number

2222

was reported as accurate

May 14, 2017:

Serial Number

2468

was reported as accurate

February 5, 2016:

Serial Number

2175

was reported as inaccurate

No further details were submitted with the report.

Changes since this report was submitted:

Movement Setting changed from Lever to Key


January 20, 2016:

Serial Number

2420

was reported as inaccurate

Note: This is an early key wind stem wind transition
movement

December 2, 2015:

Serial Number

2420

was reported as inaccurate

Note: Movement is transitional
Kw/Sw Lever set

October 25, 2015:

Serial Number

2038

was reported as accurate

April 5, 2015:

Serial Number

2175

was reported as accurate

November 30, 2013:

Serial Number

2173

was reported as inaccurate

No further details were submitted with the report.

January 8, 2013:

Serial Number

2119

was reported as accurate
29